Salmon Ventures Brings On Frank McCall, Long-Time Public Sector Professional
MILLVILLE, NEW JERSEY – August 3rd, 2015 – Salmon Ventures Limited (SVL) is pleased to announce the addition of Frank McCall as an associate to the firm. McCall joins SVL after retiringfrom a notable 30+ year career in public service.
"Frank has served South Jersey in an impressive manner for the past 30+ years. He brings with him an institutional knowledge and skill set that will serve Salmon Ventures well," Dr. Edward H. Salmon, Chairman of SVL, stated.
"The firm will greatly benefit from having his extensive public sector experience at our disposal," Salmon concluded.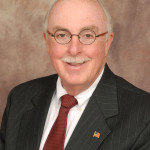 Frank most recently held the position of Cape May County Public Works Road Manager from 2012-2015. Before his time with Cape May County Public Works, McCall served in multiple capacities in government. Frank held office in Wildwood Crest from 1981-1989 where he was Mayor from 1985-1989, and served on the Ocean City Council from 1998-2006. During his time on the Ocean City Council, he was President from 1999-2001.
"Salmon Ventures is thrilled to have gained such a wonderful addition to our firm. Frank has proven his dedication to the people of South Jersey, and the state as a whole, time and time again," added CEO, Kim Schalek Downes.
McCall is a graduate of Villanova University earning his B.S. in Business Administration. He also attended Rutgers University where he received his designation of Certificate of Public Management. Born in Philadelphia, he currently resides in Ocean City, N.J. with his wife Beverly.
Salmon Ventures Limited in a national consulting firm specializing in governmental and regulatory strategies for utilities, governmental entities, businesses, and educational institutions.
# # #