NJ Society for Environmental, Economic Development Honors Dr. Edward Salmon
MILLVILLE, NJ – Dr. Edward H. Salmon, founder of Salmon Ventures Limited and Chairman of the NJ Energy Coalition, was honored by the New Jersey Society for Environmental, Economic Development (NJSEED) with the Lewis R. Applegate Business Leader Award October 3rd in Trenton.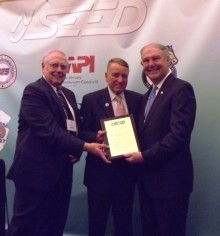 The award, named for Lewis Applegate a founding NJSEED member, is presented annually to a business leader who impacts the State by creating jobs and enhancing the environment. Dr. Salmon was recognized for his balanced approach to public policy and positive community involvement. Also honored at the event were New Jersey Assembly Speaker Shelia Oliver, Dennis Bone of former President of Verizon New Jersey and Chairman of Choose NJ, Greg Lalevee of IUDE Local 825, and Caren Franzini of the New Jersey Economic Development Authority.
Dr. Salmon has served as a coach, teacher, Mayor, County Freeholder, State Assemblyman and President of the NJ Board of Public Utilities. Recently, he received a Doctor of Humane Letters from Thomas Edison State College for his lifetime of work as an "untiring civic activist, philanthropist and humanitarian."
In 1988, Dr. Salmon served in the Assembly for four years before Governor Jim Florio appointed him as President of the NJ Board of Public Utilities. During his time at the Board, Dr. Salmon became heavily involved in the National Association of Regulatory Utility Commissioners (NARUC), serving as an officer in the organization. Dr. Salmon served two years as NARUC's Vice President, Chair of NARUC's Executive Committee, Founder of NARUC's Washington Action Committee, and a member of the Communications Committee. In addition, he was President of the Great Lakes Conference (16 states) and on the Board of Directors for the National Society of Rate of Return Analysts and the National Regulatory Research Institute. Presently, Dr. Salmon serves as President of NARUC's Commissioners Emeritus. Upon leaving the public sector, Dr. Salmon first went to work for AUS consultants before branching off to establish Salmon Ventures Limited.
He continues to serve as Chairman of Salmon Ventures and works hard on a daily basis to expand the services the firm provides to its clients. He also serves as Chairman of the New Jersey Energy Coalition; Board President of the Next Generation Aviation Research & Technology Park, Inc.; President of NARUC Commissioners Emeritus (10th term); Chairman of the Steering Committee of the William J. Hughes Center for Public Policy at Richard Stockton College of New Jersey; Member of the Board of Trustees of the Ocean City Tabernacle; Executive Board Member of the South Jersey American Heart Association; and a member of the West Park United Methodist Church located in Hopewell Township, N.J. In the past he served on the Board of Trustees of Sun National Bank and President of the Southern New Jersey Boy Scout Council.
Married for 48 years to the former Marilyn Lurae Groninger, Ed and Marilyn have two children (James Edward and Kristine Leigh), two children through marriage (Vivian Rosado Salmon and Scott James Burnley), and twelve grandchildren.
Salmon Ventures Limited in a national consulting firm specializing in governmental and regulatory strategies for utilities, governmental entities, businesses, and educational institutions.
####