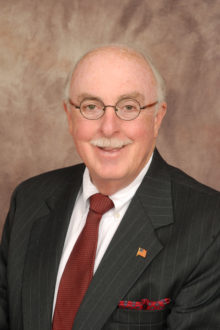 Francis J McCall has over thirty years' experience in public service.  Frank has served as the Mayor and Commissioner of Pubic Works of Wildwood Crest, City Council President of Ocean City, the Cape May County 911 Coordinator, the Cape May Emergency Management Coordinator, and the Cape May County Public Works Road Manager.
In addition to working with SVL as an Associate, Frank serves as the Membership Chair to the New Jersey Energy Coalition. The New Jersey Energy Coalition generates public support for the production and delivery of clean, reliable, affordable, American energy to meet New Jersey's growing energy needs.
Mr.McCall graduated with a Bachelor of Science in Business Administration Degree from Villanova University, where he played basketball in the Philadelphia Big Five.  He also is a Certified Public Manager from Rutgers University and the New Jersey Department of Community Affairs.  In 2012 he was recognized by Atlantic Electric at the annual New Jersey Emergency Preparedness Conference for outstanding leadership in Emergency Management in New Jersey.
Email: fmccall@salmonventures.com