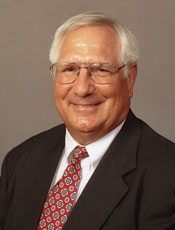 Robert "Tony" Surace is a former teacher, coach and school administrator. He retired from the Millville School District in 2005 after 37 years of service to the students and residents of his community. He served as Millville Senior High School's head football coach for 25 years and head baseball coach for 19 years. In addition to coaching and teaching, Surace supervised K-12 health, physical education, intramural sports and interscholastic athletics for 14 years, first as the Supervisor of Health & Physical Education and then as the Athletic Director, with program responsibilities for 6,000 students, nine school buildings and 22 sports.
Surace's long list of career accomplishments include being inducted into the South Jersey Coaches Hall of Fame, New Jersey Football Coaches Hall of Fame, New Jersey Baseball Coaches Hall of Fame and the New Jersey Interscholastic Coaches Hall of Fame. He was voted Football Coach of the Year by the Atlantic City Press three times. His 25 years of exceptional coaching led the Millville Senior High School football team to eight Conference Championships, ten County Championships, five State Play-off Appearances and one State Championship.
After retiring from teaching, Surace first served as Vice President of Salmon Ventures Limited, a government affairs firm based in Millville, and then later transitioned into an associate role at the company. In 2007, he helped produce a 170-page efficiency study on all aspects of the Passaic County government operations. Surace has also played a lead role in assisting the Bridgeton School District raise nearly $5 million from public and private sources to build a new High School Stadium.
Surace earned his Bachelor of Science (BS) degree from West Chester State College in 1969 and his Master of Arts (MA) degree in Health & Physical Education from Glassboro State College in1979. He received his Principal Certificate and Supervision Certificate from Glassboro State College in 1981.
Married for 45 years to the former Barbara Nauss, Surace has two sons: Bob and Brian. Bob is married to Dr. Lisa Tanners Surace and they have two children, Alison Lilly and AJ. Bob is the current head football coach at Princeton University. His brother Brian, married to Susan McAllister Surace, serves as the head football coach at Fairleigh Dickinson University.
Resume (PDF)
Email: tsurace@salmonventures.com