Kimberly Schalek Downes
President & CEO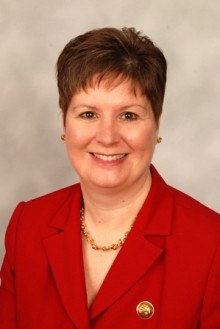 Kimberly Schalek Downes has twenty-six years of experience working in governmental and regulatory relations. In 2003, she co-founded Salmon Ventures Limited (SVL) and has served as the company's CEO since it was formed, and as President since 2016. In this role, Mrs. Downes oversees the daily operations of SVL, including finances, client work, projects, special events and political activities. Mrs. Downes helps foster close working relationships with all SVL's clients in addition to providing them with individual professional consulting services.
One of her major functions as President & CEO is to oversee the firm's participation in local, statewide, and national conferences and meetings. In the interest of their clients, SVL maintains a strong presence at the multiple annual events hosted by the National Association of Regulatory Utility Commissioners (NARUC) and its affiliate organizations. At each conference, SVL hosts private networking events for conference attendees, who include state utility commissioners from across the nation. These events provide the opportunity for Mrs. Downes, as a principal of SVL, to foster and maintain productive working relationships with the individual state and federal regulators. Mrs. Downes also oversees the coordination of fundraisers that SVL hosts for local, state and federal elected officials. Her responsibilities in this area include communication with the honored officials and potential donors in addition to the overall organization and execution of the events.
Prior to the establishment of SVL, Mrs. Downes served as Vice President & Executive Coordinator of AUS Pathways from 1997 to 2003. AUS is a worldwide market research and consulting company with corporate headquarters in Moorestown, NJ. In her role, Mrs. Downes was responsible for the oversight of the firm's administrative duties, including research, writing of client reports and billing activities.
From 1992 to 1997, Mrs. Downes served as Chief of Staff to Commissioner Edward H. Salmon on the New Jersey Board of Public Utilities. In this position, she managed the daily operations of Commissioner Salmon's offices in Trenton, NJ and Newark, NJ, in addition to acting as chief liaison between the Commissioner and his staff. Her duties included: coordination of staff scheduling and project assignments; preparation of technical summaries on issues appearing before the Commissioner; attendance at meetings, workshops and conferences on behalf of the Commissioner; serving as chief contact for state and federal agencies and other regulatory boards across the country; supervision of the daily activities of the Commissioner's offices and those of his immediate staff, including scheduling and travel arrangements.
From 1991 to 1992, Mrs. Downes was employed as the Grants Director of the Community Development Office in the Borough of Woodbine, NJ. In her role she administered State and Federal funded community development initiatives made possible through a program grant budget that totaled over $15 million. The budget included the construction of a new community and recreation center, improvements to the municipal infrastructure, and housing rehabilitation. During this time, Mrs. Downes also served as the Confidential Assistant to the Mayor of Woodbine, NJ. There she coordinated the daily activities of the Mayor's office, including constituent services, development and distribution of news releases, letter writing, and the researching and implementation of various community based assistance programs.
From 1990 to 1991, Mrs. Downes worked as a Legislative Aide for Assemblymen Edward H. Salmon and Raymond Batten. She represented both Assemblymen at various affairs, attended meetings and workshops, assisted with constituent issues, researched legislation affecting the First District, and responded to various types of correspondences.
Outside of her political and professional career, Mrs. Downes has always been an active and contributing member in her local community and region through her involvement in civic and service organizations. She is a former member of the Municipal Alliance Committee and the Recreation Commission in her hometown of Woodbine, NJ. In 1991, Mrs. Downes was elected to the Woodbine Board of Education and served there for seven years, one of which as Vice President and two of which as Board President. She currently serves on the appointed Board of Directors and the elected Executive Committee of the Southern New Jersey Development Council, a non-profit organization whose purpose is to promote economic development in the southern eight NJ counties.
Mrs. Downes graduated from Dickinson College with a Bachelor of Arts degree in both Political Science and Policy & Management Studies with respective concentrations in State & Local Government and Environmental Policy. She was born and raised in Woodbine, NJ and graduated from Millville High School. Mrs. Downes has been married for 10 years to Mr. Samuel Downes. Mr. Downes is an educator, a retired member of the Avalon and Cape May City Beach Patrols, and a retired Lt. Colonel in the United States Army Reserves. Mr. and Mrs. Downes have one child, Samantha Rose.